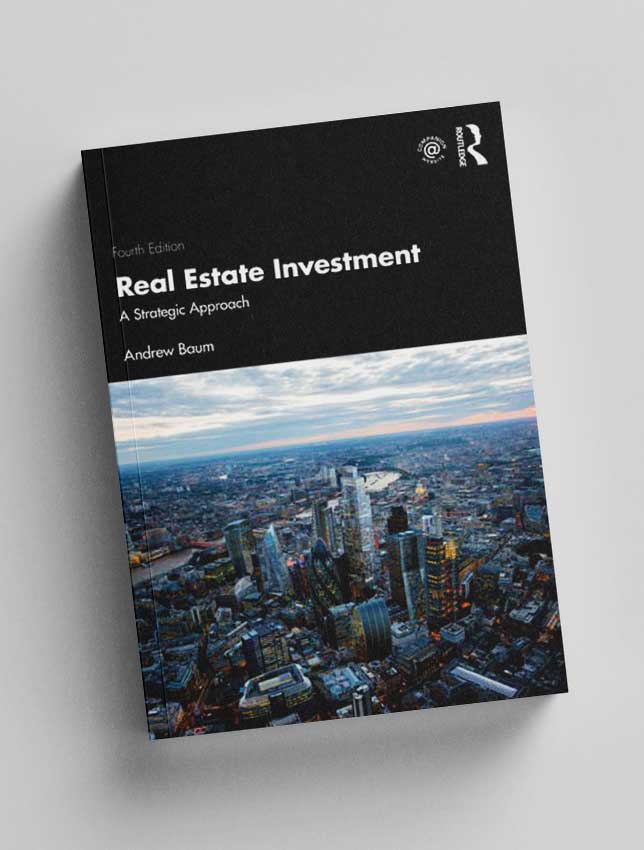 Real Estate Investment
A Strategic Approach
Real Estate Investment: A Strategic Approach introduces professional and technical approaches to building and managing large real estate portfolios. The new edition has been fully rewritten and reorganised and includes five new chapters, 25 new international case studies and a renewed focus on topics such PropTech (property technology), innovation and ESG.
Andrew Baum outlines the market and the players who dominate it; the investment process; the vehicles available for investment; and an approach to global portfolio construction, pricing and performance measurement. The book contains many useful features for students, including numerous boxed examples drawing on international cases, a glossary, and chapter summaries.
Ideal for undergraduate and postgraduate students on all real estate and property courses and related business studies and finance courses, Real Estate Investment is designed to provide a foundation for the next generation of investment managers, advisers and analysts.
Table of contents and book resources
Part one: Introduction to the market
Chapter one
 Introduction:
Real Estate – The Asset Class
Chapter two
The Market – and Who Makes It
Chapter three
Market Fundamentals and Rent
Part two: The investment process
Chapter four
Pricing Real Estate and
The Investment Process 
Chapter five
Portfolio Theory and Risk 
Chapter seven
Asset Management 
Chapter eight
Capital Structure: Equity and Debt
Part three: Investment vehicles
Chapter nine
Real Estate Funds
Chapter ten
 Structured Real Estate
Investment and Options
Part four: Building portfolios
Chapter eleven
International Real Estate Investment 
Chapter twelve
Real Estate Strategy –
Theory Into Practice
Part five:
Measuring performance
Chapter thirteen
Performance Measurement
and Attribution
Chapter fourteen
The Future of Real Estate Investment