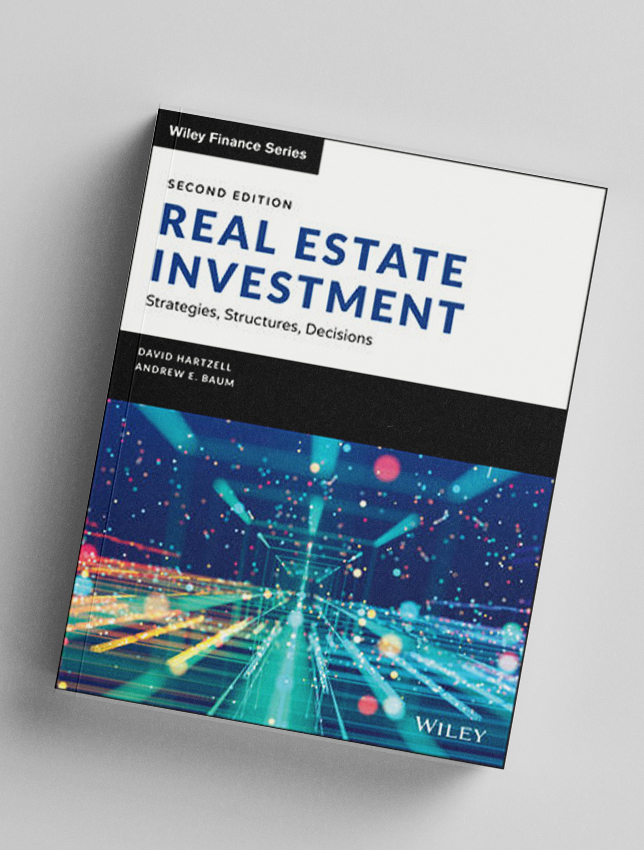 Real Estate Investment and finance
Strategies, Structures,  Decisions
The fully revised and updated version of the leading textbook on real estate investment, emphasising real estate cycles and the availability and flow of global capital
Real Estate Investment remains the most influential textbook on the subject, used in top-tier colleges and universities worldwide. Its unique, practical perspective on international real estate investment focusses on real-world techniques which measure, benchmark, forecast and manage property investments as an asset class. The text examines global property markets and real estate cycles, outlines market fundamentals and explains asset pricing and portfolio theory in the context of real estate.
In the years since the text's first publication, conditions in global real estate markets have changed considerably following the financial crisis of 2008-2009. Real estate asset prices have increased past pre-crisis levels, signalling a general market recovery. Previously scarce debt and equity capital is now abundant, while many institutions once averse to acquiring property are re-entering the markets. The latest edition – extensively revised and updated to address current market trends and practices as well as reflect feedback from instructors and students – features new content on real estate development, improved practical examples, expanded case studies and more. This seminal textbook:
Emphasises practical solutions to real investing problems rather than complex theory
Offers substantial new and revised content throughout the text
Covers topics such as valuation, leasing, mortgages, real estate funds, underwriting and private and public equity real estate
Features up-to-date sections on performance measurement, real estate debt markets and building and managing real estate portfolios
Includes access to a re-designed companion website containing numerous problems and solutions, presentation slides and additional instructor and student resources
Written by internationally-recognised experts in capital management and institutional property investing strategies, Real Estate Investment, Second Edition: Strategies, Structures, Decisions is an indispensable textbook for instructors and students of real estate fund management, investment management and investment banking, as well as a valuable reference text for analysts, researchers, investment managers, investment bankers and asset managers.
Part one: Real Estate as an Investment: An Introduction
Chapter one
Real Estate –
The Global Asset
Page 3
Chapter two
Global Property Markets and Real Estate Cycles, 1950–2020
Page 33
Chapter three
Market Fundamentals and Rent
Page 83
Chapter four
Asset Pricing, Portfolio Theory, and Real Estate
Page 109
Chapter five
Basic Valuation and Investment Analysis
Page 145
Chapter six
Leasing
Page 159
Chapter seven
Techniques for Valuing Commercial Real Estate and Determining Feasibility: The Unleveraged Case
Page 187
Chapter eight
Mortgages: An Introduction
Page 205
Chapter nine
Commercial Mortgage Underwriting and Leveraged Feasibility Analysis
Page 229
Chapter ten
Real Estate Development
Page 247
Chapter eleven
Unlisted Real Estate Funds
Page 277
Chapter twelve
Real Estate Private Equity: Fund Structure and Cash Flow Distribution
Page 301
Chapter thirteen
Listed Equity Real Estate
Page 323
Chapter fourteen
Real Estate Debt Markets
Page 345
Chapter fifteen
Building the Portfolio
Page 387
Chapter sixteen
International Real Estate Investment: Issues
Page 411
Chapter seventeen
Performance Measurement
and Attribution
Page 451
Chapter eighteen
Conclusions
Page 491